Giant iTab hire now available throughout Canada at One World Rental.
The Giant iTab is the latest award-winning touch screen solution and you can now rent Giant iTab products at One World Rental for delivery throughout Canada. This giant tablet is being utilized by nearly every sector imaginable including health and education, finance, charities, retail, software and corporate events. They can be delivered all over the world and are a simple, innovative example of successful digital signage.
What exactly is the Giant iTab?
The Giant iTab is also referred to as a giant iPad display or a giant iPhone display. The reason is simply that it looks and functions like a mega-sized tablet or smartphone. The interface is parallel to that of the iPad or iPhone. The giant iPhone display has a simple, minimalistic design, a high definition display with capacitive touch, and the ability to present digital content in Android or iOS formats.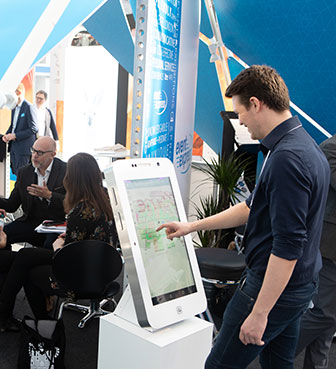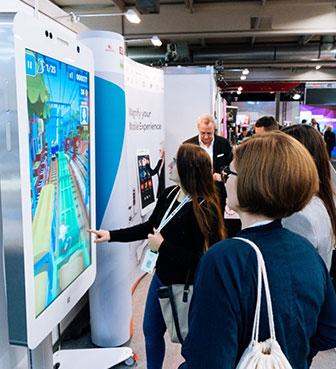 How do I use the giant iPad display?
The Giant iTab is easy to operate, because guests and attendees already know how to use it. The touch, pinch and swipe commands remain the same on this device as on a traditional tablet or smartphone. One World Rental can preload any applications including branded content for your business so that everything is setup on your giant iPhone display and ready-to-use prior to your event.
What are some of the benefits of using the giant iPad display?
There are many benefits to using this giant tablet. First of all, people are naturally drawn to its size and familiar appearance. Marketing has continuously applied the technique of super-sizing their products because it has crowd appeal. At exhibitions, trade shows and boardrooms everywhere, people are noticing how easily a giant iPad display can be utilized and interacted with. Guests take selfies with them at events just for the novelty. Giant iPad hire is an easy, dynamic way to showcase any digital content whether it's a website, seminar, live video feed or guest information.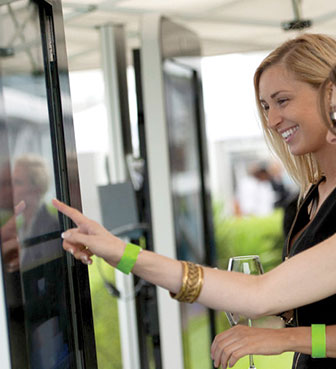 Applications for Giant iTab rental.
There are a number of applications for Giant iTab hire. Here are just a few listed below.
Education and Training: The giant tablet expertly and easily presents learning games and training material for corporate and public workshops and seminars.
Retail, Gaming, and Finance: The giant tablet replicates the smartphone or tablet experience for businesses who are aiming to transition their consumer base from storefront to online interactions as well as from online accounts to mobile apps. Functionality is simple and fun to use in this interactive digital signage.
Hospitality: The giant iPad rental functions as digital concierge at events and workshops. Placed in the lobby or throughout events, these kiosks provide guests with information such as interactive maps, floor plans, seating charts, directions, event menus, surveys and voting options.
Broadcasting and Live Presentation: The high-performing full HD display of the giant tablet can present photos, videos and live-streaming easily. This device has been used on television and for live broadcasts and seminars.
Software and App Development: What better way to showcase apps and software applications than on a mega-sized smartphone or tablet? Giant iTab rental can present software functionality, while helping with group and product testing.
Giant iTab rental and additional hardware and services from One World Rental.
We rent Giant iTab products at One World Rental but we also continue to offer the same great event hardware such as AV equipment, Virtual-Reality headsets, EPOS devices, smartphones, desktops, LED Video walls, and more. We have technical event staff who have set up successful events around the world and have the experience and knowledge to deal with any eventuality. We provide Wi-Fi Networking Engineers who can install internet under any circumstances and in any location (regardless of existing infrastructure) such as satellite internet, MiFi, hardline, personalized bonded internet, and remote access points.
To rent Giant iTab or any of our hardware, software, or event services, please contact One World Rental today.