Inkjet Badge Printer For Events - Epson C3500 ColorWorks Label Printer
Do you need a system for high-quality, on-demand name badge printing? Think about renting the Epson 3500 badge printer; the best solution for creating full-color name badges for conferences, shows, and events. In addition to avoiding printing extra badges for no-shows, you'll preserve great flexibility in the badge design. One World rental holds stock in multiple depots across Canada and the United States so renting the Epson C3500 is easier than ever with us.
The Epson ™ C3500 printer is the top choice for event management firms to cater to on-site, on-demand requirements of badge printing. This printer guarantees that everything can be printed from a single device, including event tickets and business cards with vibrant logos and images.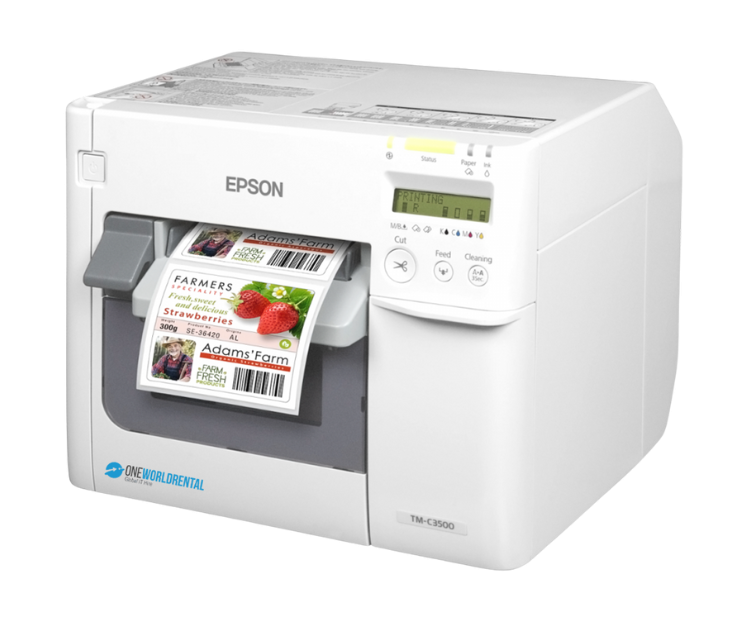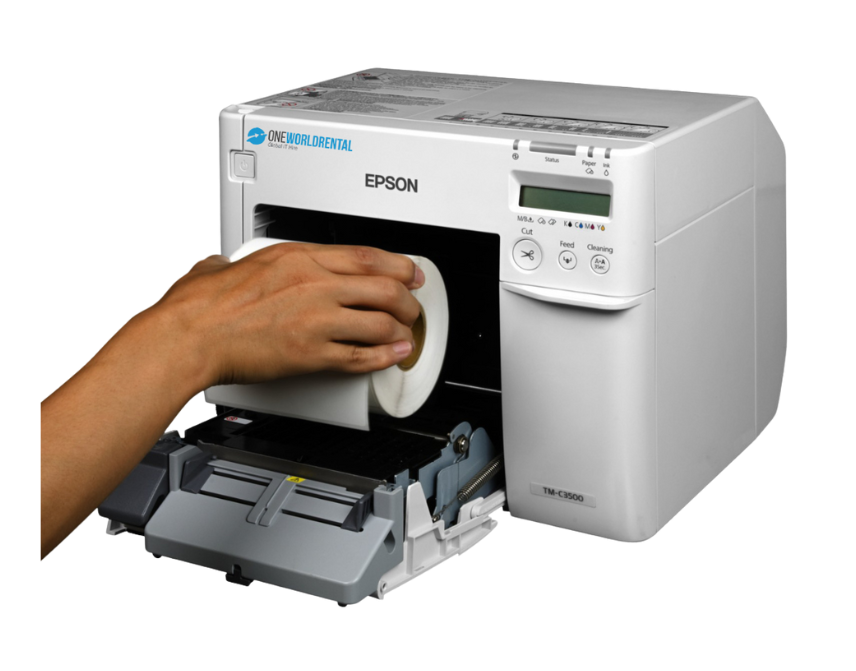 Rent Epson ColorWorks C3500 For Business Events - Best Printing Solution
The challenge of printing large quantities for events, exhibits, tradeshows, conferences, or meetings may be difficult for event planners. To meet the demands of such events, large numbers of high-quality and efficient printers are needed. Your workload in planning the event may rise due to logistics, equipment sourcing, and selecting the appropriate printer settings to meet your needs.
Additionally, you may need to worry about operating the on-site registration counters to avoid the long-hours queues and prompt credential printing when required. Furthermore, best-performing event check-in and registration desks need a range of supplies, including Wi-Fi, badge stock, consumables, toners, and inks. The management of these resources increases the workload for event planners and One World rental can provide the hardware and technical staffing expertise to manage onsite registration.
Choose One World Rental - We Understand Your Priorities
One World Rental is available and willing to discuss your printing requirements with you as part of a free technical consultation. We can also help you with the most recent printing technology. Our extensive technology inventory includes industry-leading Epson TM C3500 printers available for rental.
Hire the Epson C3500, recognized as one of the the best pick for event planners and organizations because of its straightforward interface with all essential on-site registration software and rear-feed functionality for fanfold and big rolls. Due to its quick print speed, it would be an excellent addition to your on-site badge printing needs.
We do not just promise the latest technology but commit to providing holistic printing solutions. Therefore, we also offer ink for Epson C3500 printers and support you with badge stock and technical staffing for registration setups anywhere and everywhere. For many years, One World Rental has been the market leader in renting out registration printers. It meets all global hardware and on-site expert staffing requirements for Event Registration and printing needs.
Rent Epson™ C3500 Label Printer
Use Epson C3500 printers for your events to get reliable, high-quality printing results.
Get A Quote Now!
Key Features of the Epson C3500
Color labels with color codes, graphics, and graphic images are in demand nowadays to draw attention to important information. As a result of this evolution, the number of label variations and the complexity of label creation is significantly increasing. The Epson ColorWorks C3500 is the ideal solution because it can instantly produce full-color labels.
On-demand printing of full-color labels is possible with Epson's ColorWorks C3500 printer. Its features make it the perfect choice for high-quality printing (720 x 360 dpi).
Speedy, User-Friendly, and Consistent
For on-demand badge and label printing, Epson's 4-colour inkjet printers, like the TM-C3500 offer the quick speed, easy use, and great dependability required.
Compact Design For Commercial Use
The compact, reliable design of the Epson 3500 badge printer makes it ideal for limited workstations and busy corporate events with plenty of attendees.
4"/Second for Printing
Epson's ColorWorks C3500 can print full-color labels at a speed of up to 4 inches per second.
Dependable And Adaptable
The Epson TM C3500 is durable, versatile, and resistant to water and dust. These qualities make it suitable for heavy-duty commercial settings.
Four-color Inkjet Printing
Labels with sharp, clear, and colorful graphics that withstand smudges and leaks are guaranteed by MicroPiezo® inkjet technology. Print in a matter of seconds using the industry's quickest on-site color printing on either pre-printed or plain white badges.
Individual Ink Cartridges
Automatic nozzle verification technology makes it simple and quick to load ink cartridges.
What our Customers Say About Us
"It has always been a great experience when One World Rental helps us with our event management demands. We can always depend on their technical staff and printing solutions considering our company's high demands. Highly recommended!"

Epson C3500 Rental - Frequently Asked Questions
The most recent addition, the Epson C3500 printer, offers low-cost, high-quality label printing. Get one today. The most frequent questions regarding renting an Epson C3500 have been addressed below. If you have more queries about the procedure, speak with our experts.


Consult Now!