Portable event WiFi throughout Canada
Event WiFi just became a whole lot simpler. We have equipment that takes the guesswork and expense out of the event WiFi experience. You can now simply plug in your WiFi and within 3 minutes you'll experience high-speed internet for 100 people within a radius of approximately 40 metres. This is great news, and it's just the start of the benefits our newest product, WiFi in a Box, can deliver.
What is amazing about WiFi in a Box?
This solution meets all WIFI security standards. It generates a mobile data network for your attendees. You can post signage throughout your events notifying guests of the password and free event WIFI. They login to a branded screen with your event and business logo. Attendees get connected and everyone is happy. WiFi in a box also has private SSDIs available which you can give to clients and staff alike with personal passwords.
Branding your portable event WiFi experience.
We have a team of designers who can produce event physical signage that you can provide for guests, as well as digital landing pages and login screens that are branded for your event or business. Why is this important? It provides a guest experience that is seamless, efficient, and simple to navigate. Contact our team of customer service and technical professionals and let us know more about your next event. We can help design an incredible experience that complements your wireless network.
Wifi in a Box
Uses 4x 4g/LTE-Advanced cellular providers.
Runs concurrently for icreased performance and 99.9% uptime.
Remote access management: user bandwidth and usage analytics.
Traffic shaping and Bandwidth Control per user
Optional additional pricate SSIDs (WiFi networks) and passwords.
Live Remote Support 24/7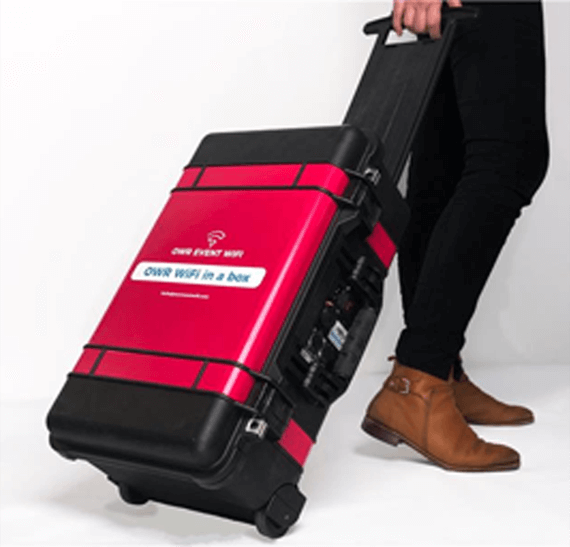 Additional Reasons to have great event WiFi.
There are so many reasons to have secure, high-speed event WiFi. Guests appreciate a WiFi connection that they don't have to think about. They can participate in the event through event software, which helps them to engage with features like surveys, online polling, inter-event social networking, and silent auctions. It enables registration systems that are fast. Connect them to wireless portable printers which can print badges, wristbands, event passes and more. Use them wirelessly in conjunction with iPads and barcode scanners. The system works together flawlessly with the right connection.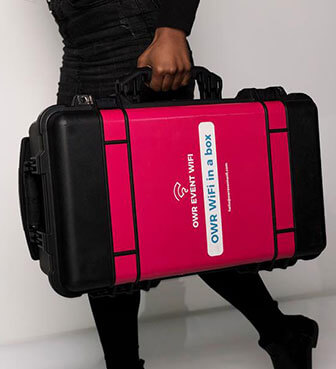 A bespoke portable event WiFi experience.
WiFi in a box can be customised to fit your event experience. Need more users or a larger area to be covered by the network? Our team can assist you to create maximum coverage that suits your requirements. It's a solution that is as scalable as it is portable.
Take WiFi in a Box anywhere.
WiFi in a box comes in a pelicase that you don't even open- simply use the plug, flip a switch and activate your WiFi. The pelicase weighs under 10kg and is packaged to travel. It has a side handle and a pull-out handle which you can extend and wheel with you. Whether you're taking it to a conference, pop up shop, festival, trade show, or exhibition, it's the perfect companion.
Contact our team for an unforgettable event solution.
We know WiFi and can help you with a range of options. WiFi in a Box is such an option- but we have a team of networking engineers who can help with any internet requirement, such as remote access points, satellite, and personalised bonded internet systems. We're equipped with the technical staff and hardware to connect your event regardless of size or scale. We also have event equipment from AV kit, to VR, to iPads, scanners, event wireless printers, digital signage, and so much more.
Contact our team 24/7 today for more information!